Receive $1.50 OFF any in-store purchase of $1.50 or more with the donation of any non-perishable food item.
·    Softener Salt
·    Water Filters
·    Polywound Filters
All donations will benefit Haven House Food Bank
The month of DECEMBER: Donate any non-perishable food item and receive 50¢ off any in-store purchase of 50¢ or more.
Trust Clearwater Systems of Montana with all of your water treatment needs. As a business with a long history of serving customers with high quality drinking water services and products, we know and understand local water issues better than most. Our experts can help you choose the right system to treat the unique issues within your home or business.Whether providing a thorough analysis of your home's water, explaining how water systems work, or recommending one that's right for you, you can be sure that no one brings a higher level of professionalism to your home or business like Clearwater Systems of Montana.
Our Montana Water System Location
Tap Water Issues in Montana
Of Montana's 50,000 miles of rivers, nearly 14,000 of those rivers are not up to Montana's standard for water quality. The top contaminants in some areas of Montana are arsenic, uranium, and TTHMs. Learn more about the water quality in your area or schedule a free in-home water test today!
Follow us on Facebook for latest news and updates.
Read Our Customer Reviews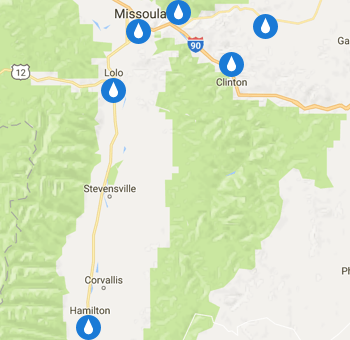 Areas We Serve
Clearwater Systems has one convenient Montana location in Hamilton to better serve you. We proudly serve the following cities:
Hamilton
Bonner
Missoula
Lolo
Ravalli
Frenchtown
Huson
Missoula City
Clinton
Potomac
Did You Know?
Kinetico Home Water Systems is now Clearwater Systems. New name. Same great service.
What Our Montana Customers Are Saying
"These guys really take the time to understand your unique situation and then provide a quality solution. Honest and they stand behind their products."
"Tim did an excellent job of explaining what he was going to do. He answered all questions at the installation & operation of the unit. He was friendly, polite & considerate of us & our home. Time was punctual & efficient. Job well done!"
"The installer was very pleasant to deal with–fast, efficient & thorough. He answered any & all questions. We will recommend this system to our neighbors."
Improving Your Water Starts With the Click of a Button