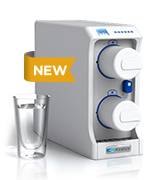 The Kinetico Kube water filtration system will leave your water tasting fresh and chlorine-free. The Kube has been shown to remove more impurities from drinking water than conventional water filters. Even though harmful substances like formaldehyde and other volatile organic compounds (VOCs) as well as lead and microbial cysts can make their way into your drinking water, the Kube is designed to remove all of these impurities.
The Kube comes with a filter-life indicator that tells you exactly when a new filter is needed to maintain the same high level of water purification. You will know exactly when to change an old filter, so you will never overuse a filter and receive subpar results. Replacing your Kube filter is also a simple and quick process.
The Kube gives you the peace of mind that you are drinking the highest quality drinking water, and it can be installed in a matter of minutes. Just follow the instructions and attach the Kube's under your sink to enjoy high-quality drinking water. What could be easier than that?
The Kube is part of Kinetico's large array of water treatment products. You can use your Kube with confidence, knowing thatall of Kinetico's water treatment products, including the Kube, are backed by a comprehensive warranty
Contact Clearwater Systems to learn more about the Kinetico Kube or any water treatment system for your home or business.