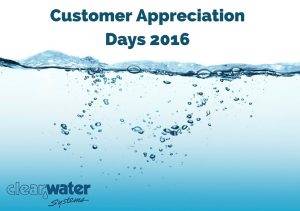 At Clearwater Systems, we take pride in ensuring our Northeast Ohio customers have the cleanest and healthiest water possible. Our customers are so important to us that we're hosting a Customer Appreciation Open House later this month.
Visit any of our seven locations on Friday, July 29 from 10 a.m. to 6 p.m. and Saturday, July 30 from 10 a.m. to 2 p.m. for great deals, snacks, door prizes and more. You even have the opportunity to win a 32 inch LCD TV!
Stop by our Akron Headquarters location on Vernon Odom Blvd. for additional fun, prizes and food.
This is the perfect opportunity to talk to a Clearwater expert about the best solution for you water or to socialize with fellow Clearwater Systems customers.
Want more information about our Customer Appreciation Days? Contact us to learn more.