Clearwater Systems is proud to offer a free water analysis to homeowners and business owners in the areas we serve.
Why is a Free Water Test Important?
We offer these analyses free of charge because we think it's very important for the health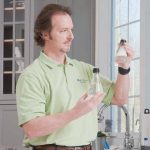 of your family and customers that you use the best water possible. Possible issues including the contamination, an outdated water system, poor water quality, and the type of plumbing in your home or business are all reasons to have your water analyzed by our water quality experts.
Our Goal When Completing a Free Water Analysis
When completing our free water testing, our goal is to provide you with the information you need to make the right decisions to ensure the quality of your water. Our goal is not to push our products, but to make you more educated on your current water quality and the specific options available to you.
You've Scheduled Your Free Water Analysis, Now What?
Have you scheduled your free water analysis with Clearwater Systems? If you have, we would like to tell you more about what to expect when our water quality experts visit your home or business.
The Clearwater Systems water quality expert that comes to your home will conduct an analysis of your water using a portable test kit. After collecting this water sample, he or she will show you the results and answer any questions you may have about what's in your water.
Your Clearwater Systems water professional will then review the condition of your water supply system, and determine the necessary flow rate based on the number of water-using fixtures and appliances in your home or business. We will review the plumbing audit with you and answer all of your questions.
If appropriate, the Clearwater Systems representative will offer a further explanation of any other issues that you have been experiencing with your water.
Based on all of the data collected as well as your input, we will provide you with recommendations for systems that fit your specific needs and budget. Be sure to ask as many questions as you'd like so that you have all of the information you need. That's what we're here for!
If you decide to move forward with the recommended treatment option, you'll be able to schedule an installation time that's most convenient for your family or business.
We look forward to meeting you, answering your questions, and finding a solution to improve the quality of your water that is perfect for your needs and budget. Schedule your free water test today to learn if your water is safe and clean.