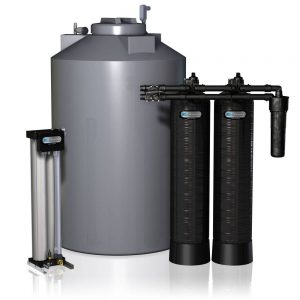 Clearwater Systems means quality. Our customers know that, and they trust us to handle all of their water quality needs. We are masters of clean water technology, and are proud to carry a full-line of great water products from Kinetico.
The Essential water softener series runs on the kinetic energy of water. You don't have to have electricity to run these water softeners, so there is never any hassle with clocks, timers or electronic parts to program. We make good water quality simple. That has always been our mission, and it always will be. The Kinetico Essential series is part of that mission, and we know you will want to incorporate these fine water softeners into your home or business.
The Essential water softener series is perfect for all of your hard water problems. These softeners will automatically monitor how much water you use and will clean themselves only as often as necessary. The frequency of self-cleaning is based on your water usage, so the cleaning schedule is always perfect. Cleaning is quick, too. There are no long waiting times for your water softener to start working again after a cleaning like with other brands.
The Kinetico Essential Series water softener is unique because it comes with our patent-pending AccuDial™ feature. This allows for more efficiency in operations. In fact, the Essential series is designed to customize itself specifically for the water usage in your home or business. This means these water softeners run differently depending on where they are located. Each one calibrates itself to your personal needs.
You won't find better water softeners at better prices than at Clearwater Systems. Kinetico water softeners are designed to save you money while saving water for the environment. Many of the products we carry have a free trial, so you can try them before you purchase. Ask about a free trial today and start getting clean, soft water at a price you will love.