What's in Ravenna's Tap Water? 
Homeowners in Ravenna, OH and the surrounding areas typically deal with the same common water problems. Most often, these problems include overall poor taste, harsh staining and build up on surfaces, and discoloration.
Harsh, Hard Water
The Ravenna water supply is known for being hard water, which means the water has a high level of dissolved mineral elements. While there are no known health risks of consuming hard water, it can cause:

Premature life expectancy of water-using appliances
Buildup on showerheads, faucets, tubs and shower doors
Cloudy film on dishes and glassware
Dry, itchy skin
Overall Poor Taste and Quality
There is nothing less satisfying than a glass of water that as a bad taste or unpleasant smell. Chemical, additives, and mineral found in your home's water supply are typically the culprits behind lousy tasting or smelling water. Many homeowners note their water taste metallic which affects their coffee, tea or cooking. Metallic tasting water is a sign of iron present in your water supply, which also causes orange-brown staining to fixtures and water-using appliances.
Do You Know What's in Your Water?
Water quality issues vary greatly throughout Ohio; however, problems can even vary throughout the same city or municipality. To learn more about your municipality's drinking water quality, review your local water quality report.
When you are ready to learn more about your home or business' water quality, contact us for a free in-home water analysis and we'll tell you exactly what's in your water. Our Water Specialist can measure your home's level of hard water as well as identify other issues with your water supply and offer a wide range of solutions to fit your needs.
Ravenna, Ohio Clearwater Systems
6058 State Route 14
Ravenna, OH 44266
Phone: 1-888-928-3710
Store Hours
Monday-Friday 8:30 A.M. – 6:00 P.M.
Saturday 9:00 A.M. – 2:00 P.M.
Ravenna, Ohio Drinking Water and Water Treatment Services
Stop in to our Ravenna Clearwater location to speak with one of our experienced water purification experts. We can help you determine the best system to treat the water in your home or business. From basic water softeners to cutting-edge filtration technology we can help. Clearwater Systems Ravena can help you with:
Full-service water treatment
Reverse osmosis drinking water systems
Iron filters
Kinetico salt-free water softeners and filtration systems
Water testing
Indoor technical service and product information
Water refilling station
Place service and delivery orders
Clearwater Systems in Ravena, Ohio proudly services homes and businesses in Aurora, Kent, Streetsboro, and Tallmadge
Free Water Analysis in Ravenna, Ohio
In order to make sure you are getting the right water treatment system to fit your needs, we recommend getting your water tested to find out will be best for your home's water.
Follow us on Facebook for the latest updates and news.
Clearwater Rewards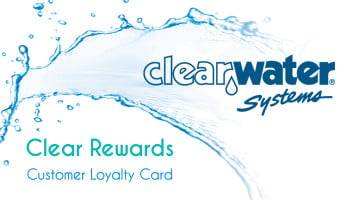 Join the Clearwater Rewards loyalty program today for FREE and start accumulating rewards right away.
Learn More