Water Softener Salt Delivery
Take the hassle out of managing your water softener system with automatic water softener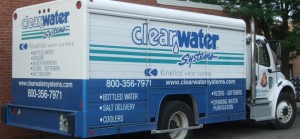 salty deliveries from Clearwater Systems. We are proud to offer automatic salt delivery for customers who need a seamless, hassle-free experience in managing their water softener systems. Our dependable auto salty delivery ensures hard water issues caused by missed pickups or busy schedules are not just avoided, they're eliminated. You can count on Clearwater to deliver the salt you need, when you need it, for your home's water softener
Buy 12 Bags of Salt, Get One Free!
When you sign up for automatic water softener salt delivery with Clearwater, every time you buy 12 bags of salt, you get one free! It's easy to qualify. First, fill out the form to the right to get started. Once your subscription is activated, your buy 12, get one free offer begins right away! You won't want to pass up this great offer.
Benefits of Clearwater Salt Delivery
Automatic salt delivery works just like any subscription service. When you sign up, you get the number of salt bags you need regularly delivered to your door. Which means:
No more heavy lifting bag after bag into (and out of) your trunk.
No more trying to time your salt pickup down to the day
No more "no salt" periods when a busy schedule prevents timely purchase and pickup
No more stress of trying to remember when your water softener system needs attention
Ready to Get Started?
Eliminate the hassle of maintaining your water softening system by taking advantage of our automatic salt delivery services. To get started, contact us today or fill out the form on the page.