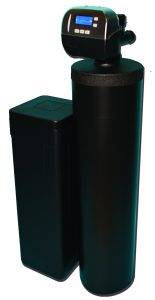 Easy Maintenance
ClearWater Systems is proud to offer the SmartSoft Gen II Water Softener. This next generation water softener offers both high-performance and flexibility in water softening. With easily affordable options for maintenance, the SmartSoft Gen II is the best in long-term water softening solutions.
If maintenance is required, each component of the water softener is simple to separate and exchange at your water softener dealer. Or, decide if you would like a technician to service the system right in your home. Either option is a low cost, and allows for precise diagnosis and solution.
Smart Engineering Design
The SmartSoft Gen II takes previous SmartSoft design and enhances it. This innovative redesign is energy efficient, salt efficient and is a Smart Appliance. Get comprehensive information from advanced alerts and electronics, including information about leaks, usage, and even back-data on water-usage patterns.
Other unique features of the SmartSoft Gen II Water Softener include:
VorTech Technology
System malfunction alert
Regeneration based on water usage
Non-corrosive materials on parts
Low salt alert (optional)
Lithium battery backup
Industry Leading Warranty
Failure to use salt alert (with Low Salt Alert)
Exchangeable, separable components
Easy, low-cost service options
More Choices=A Better Fit
The two key functions of a water softener that contribute directly to performance are a resin bed and equipment that cleans the resin. SmartSoft Gen II Water Conditioners provide homeowners with a choice in design groups*, which offer varying groups of resin volume, type of control valve, and backwash system. These choices allow you to customize the SmartSoft Gen II to your specific needs.
Two Design Groups
Resin Scrubber Vortech Design: VT Models
Vortech design is unlike conventional distributors. It vastly improves the efficacy of the softener system by reducing backwash rates at least 30%, and reducing pressure loss up to 40%. The bottom plate is innovatively designed to achieve greater resin cleansing, coupled with lower waste use. The system is actually gentler on the resin, and prolongs its service life
Heavy Duty System Design: Light Commercial Models
Quality components and ease of use set the Light Commercial (LC) apart. The LC is perfect for commercial or large restaurant situations that require high flow rates and can handle both low and high hardness levels (1-80 grains).
The SmartSoft Gen II can be customized to fit many needs and includes specialty filters to directly address several different problem water issues. Let your Clearwater Systems representative know your issues and circumstance so they can find the right fit for your situation.
*Review product data sheets for specifications on these design groups.
Contact us with questions, or request a free water analysis today!