Trust Clearwater Systems of Virginia with all of your water treatment needs. As a business with a long history of serving customers with high quality drinking water services and products, we know and understand local water issues better than most. Our experts can help you choose the right system to treat the unique issues within your home or business.
Whether providing a thorough analysis of your home's water, explaining how water systems work, or recommending one that's right for you, you can be sure that no one brings a higher level of professionalism to your home or business like Clearwater Systems of Virginia.
Address:
325 Greenbrier Drive
Charlottesville, VA 22901
Phone:
(434) 260-5720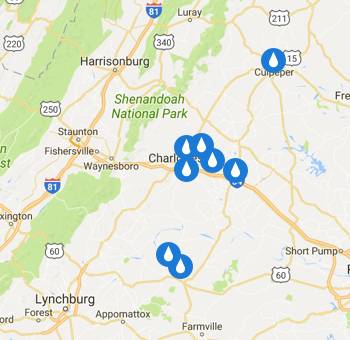 Areas We Serve
Our convenient location in Central Virginia proudly serves the following counties and areas:
Albemarle County
Culpeper County
Greene County
Buckingham County
Madison County
Nelson County
Orange County
Louisa County
Did You Know?
Commonwealth H2O is now Clearwater Systems. New name. Same great service.
What Our Virginia Customers Are Saying
"The sales and service personnel both arrived as scheduled and were very professional."
Phil P.
Charlottesville, VA
"I bought a rental property in Charlottesville and had MAJOR water quality issues right from the beginning. It had a Culligan filtration system from the well. After a year of fighting with them because the water was not improving, I called Phil at Commonwealth H2O. Turns out the issues were many including Culligan installed the system BACKWARDS!!! Phil and his staff fixed the issue and what was once a white toilet turned iron red was once again restored to it's original luster! Thanks Phil and his staff."
Andy Zemon
Charlottesville, VA
"This establishment is great! Fast, friendly service especially when you have no water. Super helpful, reliable and dependable."
Tricia Kelley
Improving Your Water Starts With the Click of a Button