With over 60 years' experience, Clearwater Systems is a leader in the water treatment industry. We can do everything from designing to installing commercial Kinetico water softeners to commercial water filters to helping businesses improve their overall water quality. A wide
variety of businesses rely on our commercial water treatment systems
, from small businesses to large corporations, to provide the purest, best-tasting water for their organization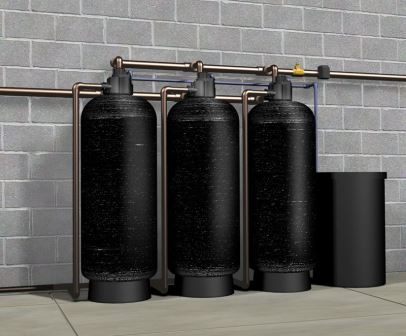 s' needs.
First, we come in and evaluate a business's water quality. From here, our experts offer honest advice about how to improve the water quality to prevent expensive issues later on down the line. Common water issues include plumbing problems, damage, increased maintenance needs, and equipment meltdowns. Our state of the art commercial water softeners and filtration systems protect businesses and keep people safe.
Some of our water treatment solutions are pre-packaged or designed, but we can also develop custom water treatment solutions for commercial groups. Efficiency is important. Our technicians are factory trained and certified by the International Water Quality Association
Our Commercial Water Treatment Systems
While some businesses want affordable bottled water services, others want an advanced commercial water purification system for their business. At Clearwater, our water solutions technician will work with you to help find the most cost-effective solution to improve drinking water quality for your business.
Commercial Water Softener Systems 
Hard water can destroy equipment, affect a business's plumbing, and be hard on employees' health. Clearwater has everything from hot water softeners and electric and non-electric softeners to filter and softener combination solutions and technology. Businesses with older buildings or unique architecture can benefit from custom-designed solutions.
Learn more about our commercial water softener solutions.
Commercial Water Filtration Systems 
Clearwater's commercial filters remove chlorine and arsenic as well as adjust the pH of the water. With a wide range of filter solutions, we can improve water quality. We have non-backwashing options, twin tank continuous filter options, and cartridge solutions, among others. Deionizers also regulate water.
Learn more about our commercial water filtration solutions.
Does Your Business Need a Water Treatment System? 
Water treatment systems are not one size fits all. In order for us to gain an understanding of your business' water supply, we provide a free water test that works to identify and isolate which chemicals are present in your business' water. Some of the common chemicals we often identify are arsenic, iron, chlorine, methane and hydrogen sulfide. After we have a general idea of what is in your water, we can work to develop the correct water treatment solution for your business' needs with our filters, softeners and various treatment equipment.
Contact us today, and our experts will come and evaluate your business's water quality!