Clearwater Rewards
Join the Clearwater Rewards loyalty program today for FREE and start accumulating rewards right away.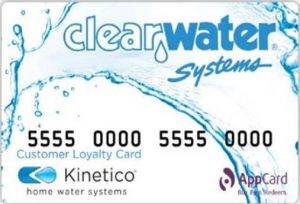 Customer Reviews
Read more about what Clearwater Systems customers have to say about our products and services
I love our new reverse osmosis drinking water system. It's reassuring to know all the water we are now using for drinking and cooking is clean and safe.
We have reverse osmosis and I love it, so we had a new Kinetico water softener installed when our old one started to leak. We should have done it a long time ago!! Water problems solved… Thanks Clearwater.
We've had a Kinetico water softener and Reverse Osmosis System installed about 1-1/2 months ago and absolutely love our well water now.
The soft water makes such a positive difference in the softness of our laundry and the cleanliness of our dishes in the dishwasher.
The Reverse Osmosis is great for all our drinking and cooking needs with no need to buy bottled water anymore. Thanks to Clearwater Systems, our water has never been so great!