As the first Kinetico dealer, Clearwater Systems is excited to announce that Kinetico is now a proud partner of Mike Holmes, a Canadian builder/contractor, businessman, investor, author, philanthropist and television host who has had international success.
Mike doesn't stand behind just any product. He chooses products of the highest quality that will improve a home's value. That's why Mike has Kinetico products in his own home and recommends them to others.
Kinetico Incorporated, a leading manufacturer of quality water systems, is pleased to announce its partnership with Mike Holmes, professional builder, contractor, and television host with a reputation for "making it right." As a part of the Holmes-approved products family, Kinetico and its independent dealers will work with Mike Holmes to raise awareness about the need for better water.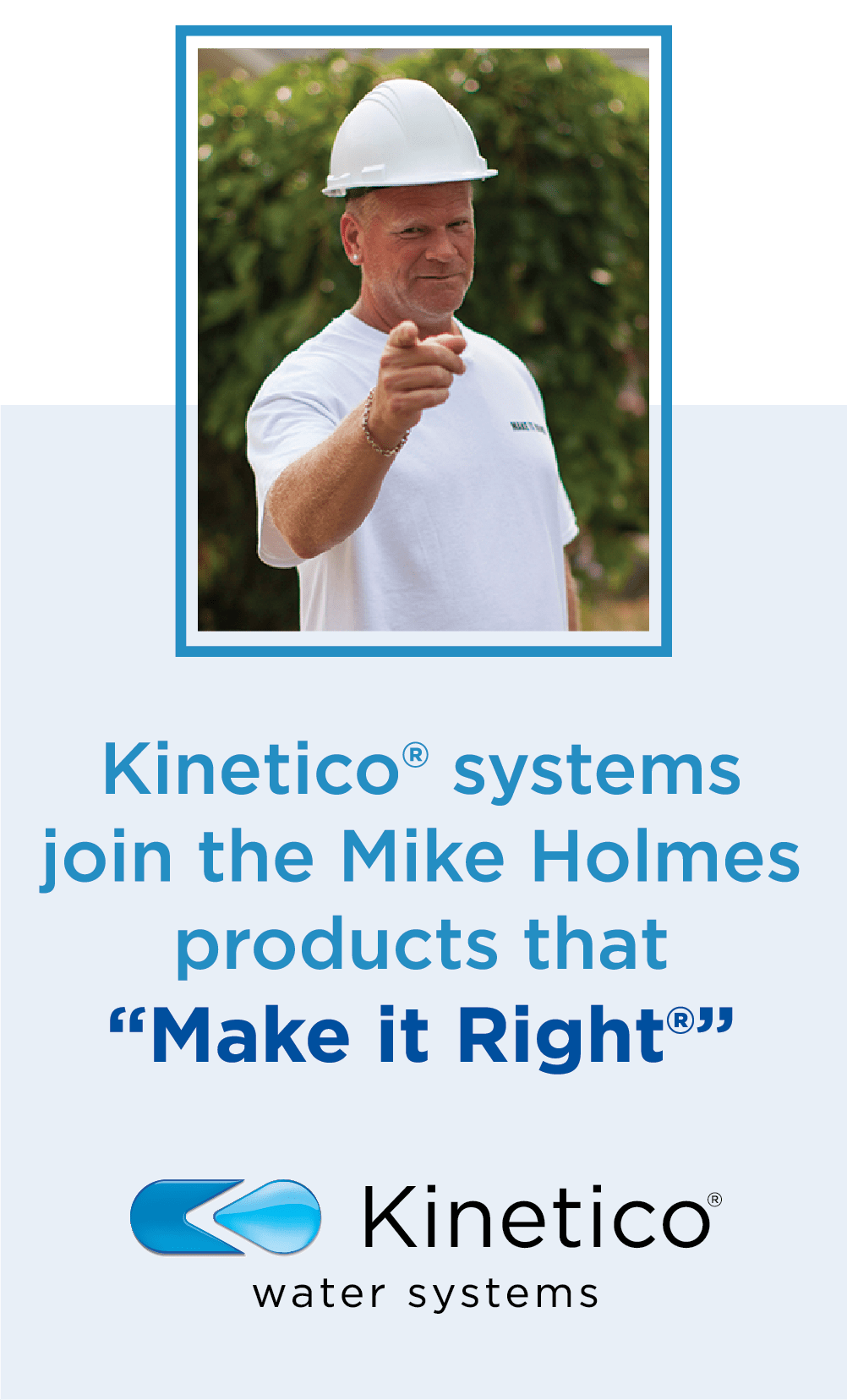 With the growing number of consumers interested in water quality, Kinetico was looking to find a partner to help educate consumers about the importance of improving their water. Mike Holmes was a natural choice for Kinetico. "Mike looks for best-in-class, quality product solutions. He is committed to doing things right and improving lives with better water which all closely align with Kinetico's values," claims Beth Allison, Kinetico Marketing Director – North America.
"I've talked for years about building better, building smarter and today especially, about building healthier," Holmes states. "Kinetico is the perfect fit for what I do. I want people to be aware of what's in their homes and how to improve and protect these things, like their water."
The HOLMES Approved Products program was designed to help homeowners choose products that support a healthy home and safety. Reports show that more and more consumers are concerned about the quality of the water they use and consume in their homes. As a part of the Holmes-approved family, Kinetico's line of reliable and customizable water softeners, drinking water systems and specialty filters will be recognized for their ability to improve water quality for drinking and cooking, use around the home and in water-using appliances.
"I've noticed that many people ignore their water unless it's causing a visible problem. But having good, clean water impacts the quality of their lives," Holmes says. "More and more people seem to understand that and are interested in improving their water now. Kinetico can help."
Clearwater Systems is located throughout Ohio, Pennsylvania, Virginia, Montana, Arizona, and Washington and is one of the 300 authorized, independent Kinetico dealers in North America offering Kinetico water softeners, drinking water systems and specialty water filters. Home and business owners can request a free water analysis to learn more about their water and how to solve their water quality issues.