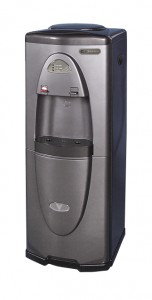 At Clearwater Systems, we provide quality filtration systems for both residential and commercial clients. We are here to provide your organization with ideal and cost effective solutions for water purification. Whatever your needs may call for, we offer a variety of products to assist your needs. Below is a list of products we provide that can bring pure, healthy drinking water to your business or home with ease.
Bottled Water & Water Coolers
We offer Kinetico bottled water delivery service for businesses located throughout the area. With scheduled deliveries, you will always have pure bottled water on hand for your employees overall enjoyment. In addition to individual bottles of water, we also offer a wide range of water coolers with different features that can meet all our client's needs.
Bottleless Water Coolers & Purifiers
Bottleless water coolers from Kinetico eliminate the need for those large and bulky water bottles that typical water coolers use. These sleek bottleless water coolers are available in a wide range of sizes. The water tank options include hot and room temperature water dispensers. A built-in filtration system ensures only clean water is dispensed.
Drinking Water Filters
These are the ideal solution for obtaining pure drinking water right from the tap, all at an affordable rate. These filtration systems can be installed directly under the sink.
Reverse Osmosis Systems
Reverse osmosis systems are designed to provide users and commercial properties with contaminant-free drinking water, no matter what budget they are working with.
Bacteria & Virus Biofilters
Commercial water purification systems let you take advantage of optional bacteria and virus biofilters that ensure no viral contamination within your drinking water.
Ultra Violet Sterilizers
These systems leave your water tasting great without the use of added chemicals, which can be harmful to our systems. These purification systems ensure that your water does not contain dangerous contaminants.
Chlorinators
Those who are experiencing iron or a strange odor within their water may benefit from our line of chlorinators. Our line of chlorinators work to treat these issues while killing viruses and bacteria that may be lurking within your water.